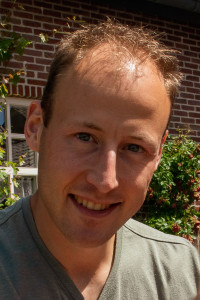 Ing. Mart van der Valk
33 years young
Living nearby 's-Hertogenbosch
Grown up on a farm, studied Mechanical Engineering at Avans University, fixed cars and motorcycles in my back yard and started with great pleasure my career in  a production environment to expand my pratical skills.
Since my 16th anniversary I have worked in small and medium-large production facilities. For my Mechanical engineering internships I have worked for half a year as a fulltime CAD engineer, were I expanded my skills on SolidWorks and SolidEdge. My second internship was as Concept Engineer for Royal IHC deep-sea mining: The methodical design of a conceptual seafloor mining platform, with a specialization in new type of propulsion.
I started my professional career in 2009 as a maritime benchfitter for Royal IHC. I have been working on the production of two custom-build dredging vessels at the (famous) Dutch Verolme shipyard in Heusden (VSH). Soon it turned into a combination of production and a team leading role. Medium size TSHD "Isandlwana" and "Victor Horta" are succesfully being build and commissioned. On the first vessel I have installed the mechanical equipment from small foundations to dredging pumps and the complete propulsion line. For the second vessel my role was changed to 'co-operting foreman': supervision / lead of a mechanical team from 6 to 11 employees, with the main activities to direct, schedule and co-operate in the installation work, as well as solving problems and synchronize  work with subcontractors.
After a reorganisation in 2011 I have been working for Royal IHC in Kinderdijk and Sliedrecht and also commissioning became part of the job.
During the years 2011 – 2015 I have worked as a co-operation foreman for two custom-built cutter dredgers "Shanti Sagar XVI" & "Miondo" and many IHC Beaver Dredgers®. Hereby I have commissioned several Beaver 40s and Beaver 50s. In 2015 before an upcomming reorganisation I decided to look for a new challenge in a more commercial setting. I became an account manager for service jobs on hydraulic systems, mainly for Damen shipyards worldwide. Allthough the commercial activities were quite interesting and working with Damen was a pleasure, I missed the field work. After my one-year contract I choose to make a change. Due to a non-competition clause I had to leave the maritime industry.
In my latest role I have been working as Technical Advisor for engine applications in industry, gen-sets and maritime industry. Mainly (after) sales support on John Deere, Doosan, Nanni and Zenoro diesel engines, used as generator drive or powertrain solution.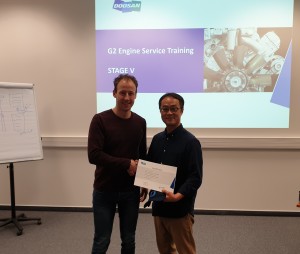 I have held a close relation with service technician, customers (OEM) and engine suppliers John Deere, Doosan and Nanni. I supported them by phone, e-mail and on-site. During these years I have expand my knowledge on engine technique, specially engine emission after treatment devices (DOC / (s)DPF / SCR / DEF etc.), engine installation, engine communication by CANbus and commissioning / application review. Due to Covid-19 consequences in 2020 my position has ended.
In my leasure time I also create and make some non-profit mechanical designs, engineering and publications, which portfolio is shown on www.vandervalk.es